Print Reports for Planning Analytics for Excel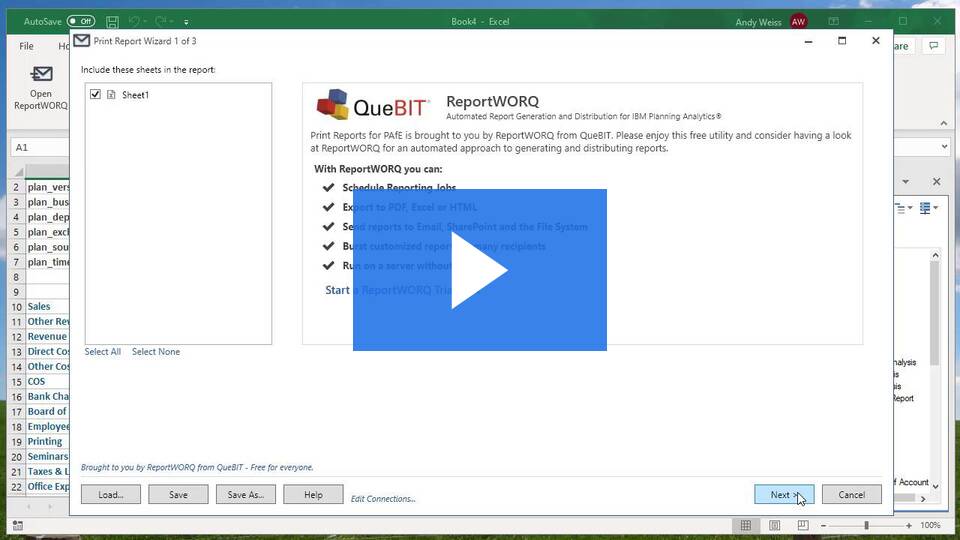 Print Reports is brought to you by your trusted experts at QueBIT and is completely free for all users. While using this free utility please consider having a look at ReportWORQ for an automated approach to generating and distributing scheduled reports in mass.
To use Print Reports simply download and install the software package below and then launch the software from inside Microsoft Excel.
Looking for Print Reports?
Download and install ReportWORQ with Print Reports below. Print Reports runs as a Microsoft Excel Add-in and supports all currently supported versions of Microsoft Office. Print Reports requires the .NET Framework 4.7.2 which will install automatically if needed. This feature is completely free; however, it does require a license key which can be obtained when the Print Reports is opened.
PrintReports for Planning Analytics for Excel is completely FREE!
Click below to download and register.

Interested in ReportWORQ?
Thank you for your interest in ReportWORQ. With ReportWORQ jobs can be saved and fully automated to provide personalized reporting packets for many entities and recipients on a scheduled basis. ReportWORQ supports many features to provide you with the tools needed to support a maintainable and reliable reporting process for your users.